EVENT HOTEL ACCOMMODATIONS
Reserve Your Hotel Accommodations Now! Room availability is limited !!!
HOTEL VALENCIA
150 E Houston St, San Antonio, TX 78205, USA
RELAX OVERLOOKING THE FAMED RIVERWALK AT OUR SPONSOR HOTEL, HOTEL VALENCIA.
OR CHOOSE ONE OF THESE SELECT PREFERRED HOTELS

If you don't see a property that suits your needs, please feel free to book any other property and let us know how you made your selection during the registration process. This will help us to better serve you at future events.
Simply click the link above to seamlessly book your hotel accommodations.
Please note: If you are not playing golf or attending the Day 1 events, you may need to adjust your date selection.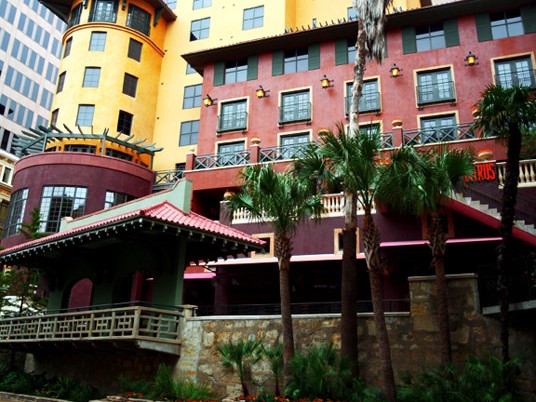 ALAMODOME
100 MONTANA STREET
SAN ANTONIO, TX 78203

MORE THAN 90,000 SQUARE FEET OF EXHIBITORS
3 DAYS TO EXPLORE AND NETWORK
OVER 300 EXHIBITORS AND 7,500 ATTENDEES
SOUTH TEXAS OIL AND GAS CONVENTION 2019 AGENDA
JOIN US IN SAN ANTONIO - THE GATEWAY TO THE EAGLE FORD

7:00 AM - 8:00 AM
GOLF TOURNAMENT REGISTRATION
7:00 PM - 8:00 PM
Exhibitor Mixer at Hotel Valencia Riverwalk
ABOUT ROSELAND OIL AND GAS
More Than Simply Trade Show Space
Innovation and technological improvements such as directional drilling and hydraulic fracturing have led to the resurgence of U.S. Oil and Gas production over the past several years. We currently face economic pressure in our industry but this same spirit of innovation will lead to the efficiency required to overcome present challenges.
Does your company offer the service or product that will create a competitive advantage in the industry?
Do you want to let the rest of the industry know who you are and what you have to offer?
Roseland can give you a more complete marketing solution because with us you get more than simply square footage on a trade show floor. We can provide you added exposure through:
Our Exhibitor Product/Service marketing campaigns
Directory distributed to Exhibitors & Attendees at each convention
Newsletter distributed to subscription base of 60,000+
E-Blast distributed to subscription base of 60,000+
Website exposure (avg. 7K hits/day)
Golf Tournaments
No freight handling charges
We promote our events with attendees in mind! We don't simply sell space in the show and hope people show up, we focus on the products and services that can be found at the show. Our goal is to provide the attendee with a REASON to want to be there by advertising YOUR products and services. We put BUYERS and SELLERS together.